Produzione di Show per Parchi Divertimento
Special Show Productions for Amusement Parks
Mirabilandia "Night Show" (2010-2012)
The Night Show at Mirabilandia Amusement Park, Ravenna Italy
Mirabilandia "Night Show" (2008-2009)
Mirabilandia Amusement Park, Ravenna Italy, 2008-2009 "Night Show"

SCENES è stata onorata con un premio ILDA 2011, per la qualità artistica del Night Show Multimediale prodotto per Mirabilandia.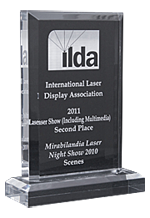 Giuseppe Zagaria, designer multimediale e direttore artistico di Scenes, è stato onorato con un premio ILDA 2002, per la qualità artistica delle sue produzioni.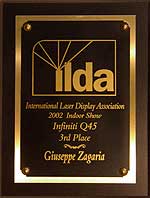 Orientati al futuro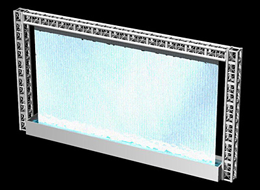 Schermi di Acqua
per retro proiezione
Shows for Amusement Parks
---
Scenes produces involving entertainment shows for Amusement Parks and special events, also mixing together laser, lighting, video projections and other special effects.